https://www.youtube.com/watch?v=HZ62_Nvanis
Welcome to the forefront of recycling.
Recycle used home appliances as new resources,
That is the important role of NKRC.
NKRC: Nishinihon Kaden Recycle Corporation is a "used home appliance recycling company" established by 8 domestic companies, including home appliance manufacturers, following the enforcement of the Home Appliance Recycling Law in April 2001.
It plays two roles: a "recycling plant" that disassembles and recycles air conditioners, TVs, refrigerators, washing machines, and a "designated collection place" for discharged home appliances.
Recycling of used home appliances collected from the Kyushu, Okinawa, and Yamaguchi areas to achieve a high recycling rate by steadily recycling them, CFC recovery, CO2 emission control, and zero emission promotion. We are working every day to contribute further to the promotion of the building of society.
Through the Kitakyushu Eco-Town Center, NKRC accepts many visitors from Japan and overseas. By visiting the actual recycling site, you can learn the importance of resource recycling and increase your interest in environmental protection. Please use this recycling plant as a place for environmental learning and interaction.
Our company is located in Kitakyushu City, Fukuoka Prefecture, and Kitakyushu City has been selected by the government as an "Environmental Future City". Environmental future city is a model city that aims to "proactively address environmental and social issues and disseminate successful cases in Japan and overseas". NKRC will also build a resource recycling society as an environmental company participating in this advanced initiative. We would like to contribute to.
Application for visit: Kitakyushu Eco Town Center
Company name
Nishinihon Kaden Recycle Corporation
location
1-62 Hibiki-machi Wakamatsu-ku Kitakyushu-city Fukuoka, 808-0021 Japan
(in Kitakyushu City Eco-town General Environmental Complex)
Phone +81 093-752-2424 Fax +81 093-752-2425
URL
https://www.nkrc.co.jp/
Establishment
December 4, 1998
Capital
400 million yen
Shareholders
Toshiba Infrastructure Systems, Toshiba Environmental Solutions, Panasonic, Sharp, Sony, Hitachi Global Life Solutions, Fujitsu General, Mitsubishi Electric
Business content
Recycling business of used home appliances
Authorization
Minister approved processing company based on specified home appliances recycling Law
Industrial waste disposal industry and general waste treatment facility
Processing Capacity
282 ton/day (Approx. 1 million/year)
Environmental Management System
In Japan, environment-related laws, such as Waste Management Law, law for Promotion of Effective Utilization of Resources, and Home Appliances Recycling Law have been enacted or revised in order to build a recycle-oriented society, where corporate compliance is important.
We are regularly reviewing environmental protection activities in accordance with these social requests to improve our activities.
In 2005, we upgraded our ISO14000 certification from 1996 version to 2004 version, aiming at implement of the more effectual environmental management.
Now, we are promoting various activities to achieve our environmental objectives: energy saving, obtaining of high material-recycling rate, reduction of CFC/CO2 emissions, and zero emissions of wastes.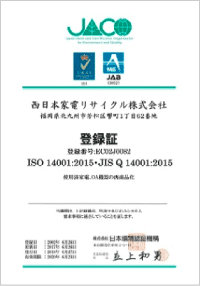 Dec.

1998

Company formation. Established with investment from Toshiba corp.

Mar.

1999

Subsidized from the Ministry of International Trade and Industry as one of Kitakyushu Eco-Town enterprises

Jul.

1999

Increased capital to 400 million yen

Apr.

2000

Start plant operation at Kitakyushu Eco-Town

Apr.

2001

Full-scale operation started by enforcement of the Home Appliance Recycling Law

Jun.

2002

Acquisition of ISO14001 certification

Sep.

2002

Amounted to 1 million sets

Feb.

2006

Amounted to 3.5 million sets

Apr.

2007

Acquisition of OHSAS18001 certification

Mar.

2008

Amounted to 5 million sets

Nov.

2010

Amounted to 7.5 million sets

May.

2014

Amounted to 10 million sets

Mar.

2015

Introduced advanced plastic separation system

Mar.

2018

Amounted to 13 million sets

Mar.

2021

Amounted to 15 million sets

Jul.

2023

Amounted to 17 million sets